RF MicroNeedling with LED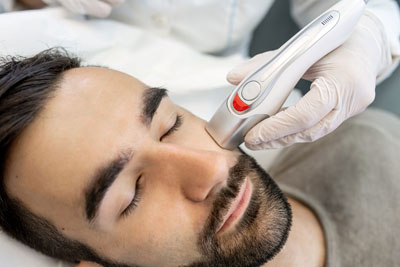 One of the most advanced treatments in the medical aesthetic industry is Radio Frequency (RF) MicroNeedling with LED. It delivers the best of two treatments within one effective treatment that provides skin tightening, firming, brightening, and improved tone and texture.
RF MicroNeedling is a non-surgical procedure that can take two to seven days for the skin to return to normal. The day after this treatment you may wear makeup and resume regular activities.
At Ageless Aesthetics MediSpa, our RF MicroNeedling with LED uses bi-plar radio frequency and high intensity Red LED light which is delivered through hollow gold needles reaching deep into the dermis. This current is delivered to create tightening of the skin. The radio frequency current creates heat causing constriction while the Red LED stimulates deep elastin and collagen remodeling. The microneedles create microscopic punctures which stimulate new cell growth during the repair. This RF MicroNeedling is a unique design for tissue coagulation and hemostasis that improves fine lines, wrinkles, acne scars and striae.
RF MicroNeedling with PRP
During your treatment we will draw your blood to collect your platelet rich plasma known as PRP. Ageless Aesthetics MediSpa will always take any opportunity to deliver your plasma into the skin for optimal results. Platelet Rich Plasma contains your own growth factors and stem cells which increase the production of new collagen, and elastin in the skin.

We have a proprietary process for making your own customized "Me Serum" which you will use post treatment. This is an aftercare serum made with your own plasma for you to take with you so you have the very best after care products to use after your RF MicroNeedling with LED treatment.
Before

After

Before

After

---
Our Location
Ageless Aesthetics MediSpa
546 Harkle Rd, Suite A
Santa Fe, NM 87505
Phone: (505) 473-7546
Medical spa serving patients in Santa Fe, Agua Fria, Tesuque, Seton Village and the surrounding Santa Fe County, NM communities.