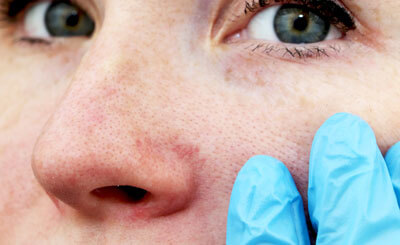 As we age our skin can become thinner and over time, we may notice small red veins or broken capillaries which can spread or become longer. Some suffer from Rosacea or a diffuse redness to their complexion which rarely goes away by itself. Over the last decade lasers have become the go to device for treating vascular problems such as Rosacea, red spots (hemangiomas), dilated blood vessels, unsightly broken capillaries, telangiectasia and port wine stains.
Ageless Aesthetics MediSpa has the latest technology with a Long-Pulsed Yag laser that very effectively and quickly treats many small vein issues anywhere on the body.
How does Red Vein Laser Removal work?
This laser beam targets hemoglobin in the skin and when the beam of energy hits the target, the energy is absorbed destroying the small vein or capillary.
Is there any downtime with the Red Vein Laser Removal treatment?
There is minimal to no downtime when treating tiny capillaries. Many clients have zero downtime. It is possible that when the laser energy is absorbed the hemoglobin turns dark and can have a tiny "cat scratch" look which is typically gone within a few days to a week. You will need to keep a topical over the counter antibiotic ointment on the treated are for a few days post treatment and of course always sunscreen of at least SPF 30.
---
Our Location
Ageless Aesthetics MediSpa
546 Harkle Rd, Suite A
Santa Fe, NM 87505
Phone: (505) 473-7546
Medical spa serving patients in Santa Fe, Agua Fria, Tesuque, Seton Village and the surrounding Santa Fe County, NM communities.