One of the newest treatments in medical aesthetics is Plasma Fibroblasting for tightening certain areas of the skin. Ageless Aesthetics MediSpa was the first in the state of New Mexico to become certified through an advanced training program out of state. There is much buzz on social media about Plasma Fibroblasting! In our experience it typically takes multiple treatments to see effective results. We have found that Plasma Fibroblasting on the eyelids, under the eyes and the crows areas respond the best because the skin is the thinnest there. Plasma Fibroblasting can be done anywhere on the face and body for surface tightening and also can be used to remove skin tags, treat sebaceous hyperplasia, and milia.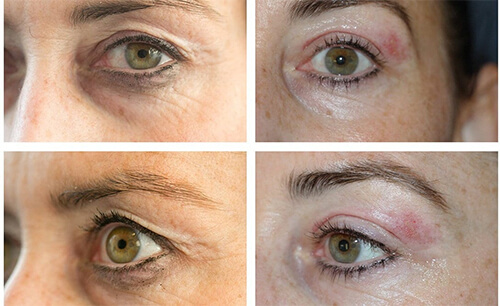 Good candidates for Plasma Fibroblast will have light to medium-light skin pigment hyperpigmentation or darkening of the skin. We offer free Visia Skin Analysis consultations to see if you are a good candidate for this treatment.

Frequently Asked Questions
What is Plasma Fibroblast?
This device uses an electrical discharge to deliver a tiny arc of plasma leaving a carbon deposit causing constriction of the upper layer of the epidermis.
What does the treatment feel like?
When you come in for your Plasma Fibroblast treatment, we will cleanse you skin and apply a layer of professional grade topical numbing cream before starting the treatment. You will feel a light to medium warmth in the area being treated. After we will apply a thin layer of Polysporin and provide you with topical ointment you will use for 3 days.
What is the downtime with Plasma Fibroblast?
You can cleanse the treated area the day after treatment. A topical ointment will need to be applied daily for the first 3 days. After the conclusion of your treatment and for the next 7 to 10 days you can have tan to brown small dot like deposits that flake off as the skin beneath is ready to release the tiny cap.
How many treatments will I need?
Typically it takes a minimum of three treatments to see good results. Patients with more correction needed will need additional treatments.
---
Our Location
Ageless Aesthetics MediSpa
546 Harkle Rd, Suite A
Santa Fe, NM 87505
Phone: (505) 473-7546
Medical spa serving patients in Santa Fe, Agua Fria, Tesuque, Seton Village and the surrounding Santa Fe County, NM communities.