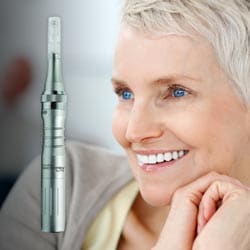 Microneedling, is also some times referred to as Collagen Induction Therapy. It has taken the skin care industry by storm and rightly so. Here at Ageless Aesthetics MediSpa in Santa Fe, we have an extensive knowledge and experience with a vast range of lasers for correcting various skin issues, and can say with certainty that we are extremely impressed with Microneedling and Microneedling with PRP Platelet Rich Plasma. We have been able to obtain many of the same results as we have in the past with lasers such as Fraxel Dual, Clear and Brilliant and others we have used in the past. The impressive treatment are not near as painful, hot nor intense as many laser treatments. This treatment has been used in Europe for a few decades and made its way to the US in approximately 2012. We have been Microneedling since 2013 and our experience shows in our clients results.
Microneedling is minimally invasive treatment capable of smoothing textural issues, deducing large pores, correcting blemishes, evening out skin tones and reducing redness, and removing pigment discolorations on the skin. We have great success reducing the size of many types of scars. Creating targeted and gentle trauma to the top layer of the skin, Microneedling stimulates the skin to rejuvenate as the healing properties create new collagen.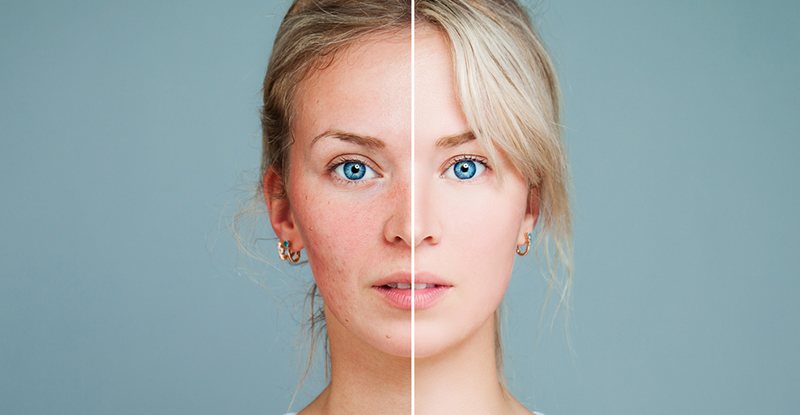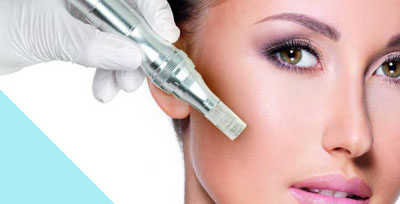 We offer Microneedling as a customized treatment utilizing Hyaluronic Acids for deep hydration, Vitamin A Retinal for corrections of fine lines and wrinkles, Salicylic Acid for mild to moderate acne issues and of course the Gold Standard, PRP Platelet Rich Plasma.
Platelet Rich Plasma Microneedling uses your own growth factors from your own plasma to achieve a far superior result. Platelet Rich Plasma (PRP) is an extract of your own blood that contains three to five times more platelets, growth factors and active proteins for tissue and injury healing. When PRP is placed back into the skin by injection or Microneedling, it initiates a localized stem cell response. Over the weeks and months following treatment, this stem cell response recruits collagen-producing cells called fibroblasts. The fibroblasts replace tissue that has been damaged or lost through the aging process with healthy skin that looks refreshed and rejuvenated. The healing properties of the blood components in PRP can be used as a cosmetic treatment for the following:
Reducing fine lines and wrinkles
Tightening and toning skin
Brightening uneven skin tone
Mile collagen and volume loss
Crow's feet and dark under eye circles
Large pores/rough texture
Acne scarring
Scar reduction
Rosacea
The major bonus of these services is they can be done on ANY SKIN TYPE AND ETHNICITY.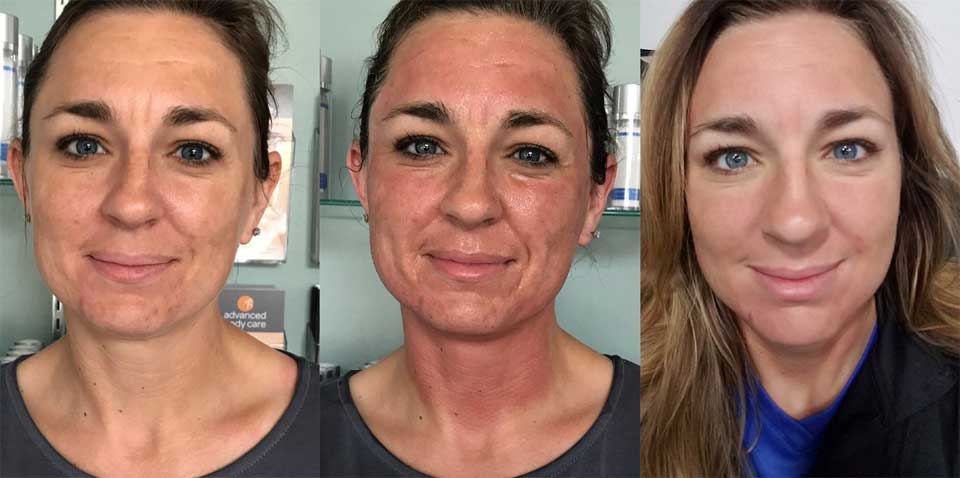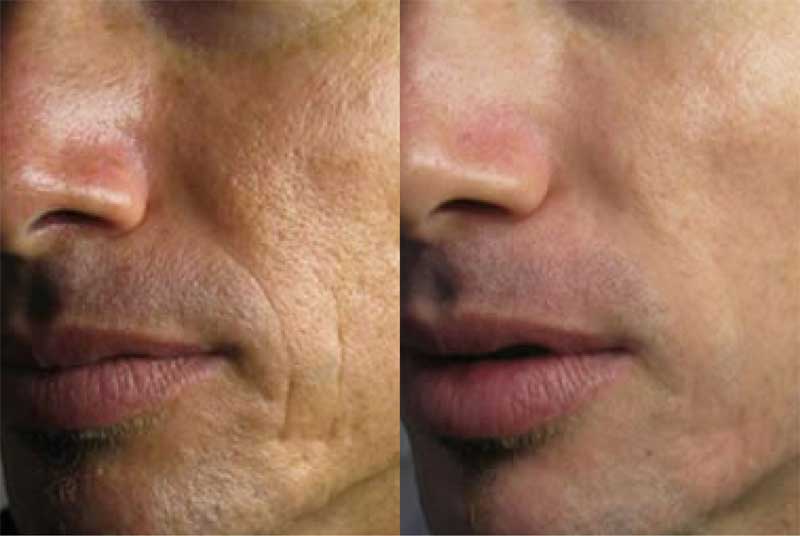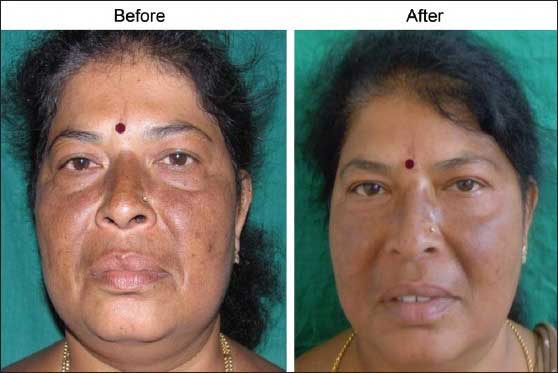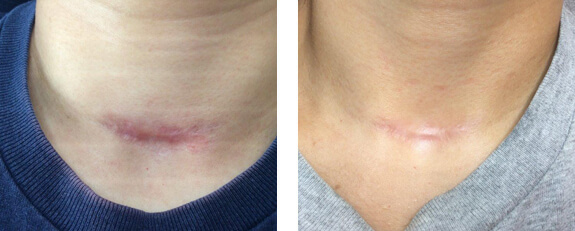 Frequently Asked Questions
How is MicroNeedling Done?
During this procedure, tiny needles are used to create controlled micro-injuries to the skin in order to produce collagen and elastin. The skin's repair process results in a thicker dermis with the appearance of softer wrinkles. Micro pen also creates superficial micro-channels which allow topical gels, creams and serums to be absorbed more effectively into the skin.
What are the Benefits of MicroNeedling?
The benefits of MicroNeedling are a reduction in the appearance of fine lines and wrinkles, younger-looking skin with fewer signs of aging. Micro pen also has a positive effect on hyper-pigmentation as well as on hypo-pigmentation, acne scars, traumatic scars and stretch marks and generally creates a fresher appearance or glow to the skin. MicroPen can be used on all parts of the body; Face, neck, décolleté, arms, hands, legs, abdomen and back.
What Does it Feel Like?
The feeling associated with the MicroNeedling is similar to light sandpaper being moved across the skin. While some areas are more sensitive than others, the speed of the reciprocating needle tip reduces discomfort while the applied hydrating gel also makes the treatment more tolerable. There is a topical anesthetic rubbed into the area of the procedure for added comfort.
How Long Does it Take?
Although the procedure itself only takes 15-45 minutes, depending on the size of the area treated, there is an additional 30 minutes allotted for you to numb with the topical anesthetic.
What Happens After the Treatment?
Immediately after the treatment you will notice a bright redness to the skin. The total healing time depends on the depth of needles used and the number of overlapping passes your skincare professional performs. On average, patients are red up to 2 to 4 days. Some patients heal completely in as little as 24 hours. Utilizing quality skincare products, provided by your skincare provider, can help to speed up the healing process. Patients notice an immediate "glow" to their skin. Visible changes to the skin develop over the course of several days and weeks. Results continue to improve up to 6 months after the treatment as collagen production continues. Some patients only require a single treatment, once per year to achieve optimal results. However, it is recommended for most patients to receive a series of 2-3 treatments spaced about 6-8 weeks apart. For patients with deep wrinkles, advanced photo-aging, stretch marks or acne scars it is recommended to receive 6-8 sessions at 6 week intervals.
---
Our Location
Ageless Aesthetics MediSpa
546 Harkle Rd, Suite A
Santa Fe, NM 87505
Phone: (505) 473-7546
Medical spa serving patients in Santa Fe, Agua Fria, Tesuque, Seton Village and the surrounding Santa Fe County, NM communities.