When it comes to skin care, men have traditionally kept it simple. However, more men are now pursuing healthier, younger-looking skin, making it a great time for men to evaluate their skin care routine and learn more about how to take care of their body's largest organ. Although there are key differences between men and women's skin – for example, men's skin is thicker than women's – the basic elements of an effective skin care plan remain the same. We understand this and it is why we commit a portion of our service menu to men.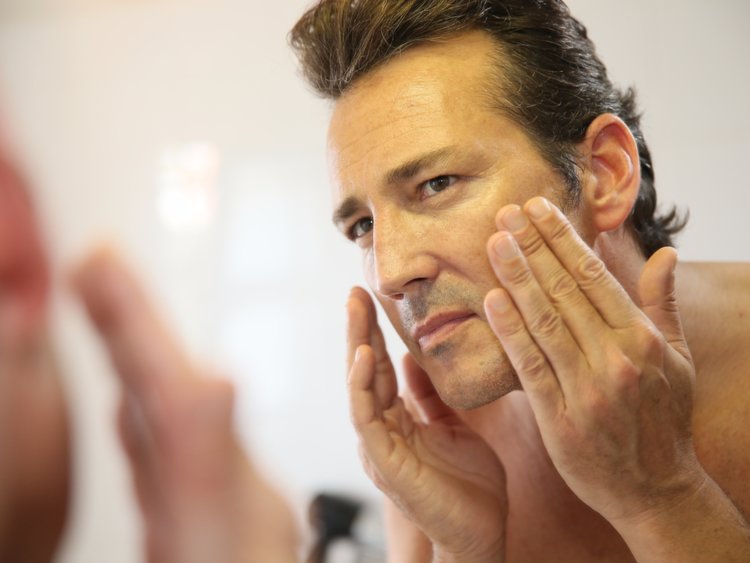 Gentleman's Facial

This fully customized Gentleman's Facial will address your specific skin type and concerns. It will incorporate an invigorating deep cleanse and exfoliation followed by deep pore cleansing, a customized mask, hydration and sunscreen. This facial can help reduce the signs of aging by revitalizing the look and feel of your skin.
Frequently Asked Questions
What is a Gentleman's Facial?
Exclusively for our gentlemen in mind, cleansing, exfoliation, massage and a customized mask will be expertly applied by our highly-trained aestheticians. This will help smooth away the tired and stressful looks along with the fine lines and wrinkles. With trimming of the brows, the patient will be back into action with his best "face" forward.
Botox® and Facial Dermal Fillers

Today, men are looking for cosmetic solutions to improve their appearances and defy aging. Up to 1 million cosmetic procedures each year are performed on men, and Botox injections and dermal fillers are among the most popular procedures that men select. Like their female counterparts, men want to feel confident and youthful, both in the workplace and in their personal lives. Botox and facial fillers help you achieve this confidence and offer the best version of you. Whether you are experiencing hollowness around the eyes, cheeks or temples due to an intense workout routine or some other cause or the elements and aging have left you with a wrinkled or weathered look, Ageless Aesthetics MediSpa can help.
Powerlift

Often the first signs of aging and dull complexions is caused by a lack of hydration. The skin feels tight, which shows it is in need of deep hydration that sometimes creams and lotions cannot provide. Powerlift will provide deep cleansing and exfoliation of the dead dull skin cells so that our extreme hydration mask can hydrate, lift and soften tough shaven skin and to alleviate and reduce razor irritation or bumps.
Frequently Asked Questions
What is a Powerlift?
The treatment begins with deep cleansing of pores using steam, followed by a microdermabrasion using tiny crystals. You will then receive a hydrating massage. We will then incorporate a Collagen Firm and Lift mask to increase the texture and elasticity of the skin.
What Happens Before Treatment?
Shaving is preferred before these treatments but beards are fine. The patient should avoid Dermal Fillers or Botox injections for 10-14 days before the treatment. Before receiving treatment, the patient should be off Retinol products or exfoliation products for 5-7 days. No tanning bed or sun for 7 days prior to the treatment.
What Happens After Treatment?
There is no downtime for these treatments. The patient's skin may be a little pink for thirty minutes to one day. There should be no tanning through the natural sun or tanning bed for up to 72 hours.
Laser Hair Removal

What is the best way for men to groom unwanted body hair? Sure, you could shave, trim, and wax. But have you ever considered Laser Hair Removal?



Laser hair removal is a procedure where a specific beam of light bypasses the epidermis and targets the follicle, disabling the reproductive cycle of the hair without hurting the skin. As the follicle gets destroyed, the hair shaft becomes weak and limp, and eventually—with pre-prescribed periods of treatment—that follicle dies and little to no hair grows.
Frequently Asked Questions
How Does the Laser Hair Removal Work?
The Laser Hair Removal works by sending a beam of laser light and radio frequencies to the hair follicles with enough power to disable or destroy the root, but not enough power to harm the skin or cause discomfort. Depending upon the area treated and hair growth, at least five treatments are recommended for ultimate results. Ageless Aesthetics MediSpa has specialized lasers that are effective on a variety of skin tones and hair colors.
What Happens Before Laser Hair Removal Treatment?
Patient may not tweeze, wax, use a depilatory or undergo electrolysis in the areas they wish to have treated for 6 weeks prior to laser hair removal. The patient should only shave or trim the area before treatment. Patient should not tan the areas to be treated for 4 weeks prior to treatment or use self-tanning products for 2 weeks prior to treatment.
What Happens Post Laser Hair Removal Treatment?
Some redness and swelling may occur in the treated area after treatment. However, this should resolve within several hours to several days after treatment. Tanning should also be avoided for at least one month after treatment.
Microneedling for Men

Microneedling, is also sometimes referred to as Collagen Induction Therapy. It has taken the skin care industry by storm and rightly so. Here at Ageless Aesthetics MediSpa in Santa Fe, we have extensive knowledge and experience with a vast range of lasers for correcting various skin issues, and can say with certainty that we are extremely impressed with Microneedling and Microneedling with PRP Platelet Rich Plasma. We have been able to obtain many of the same results as we have in the past with lasers such as Fraxel Dual, Clear and Brilliant and others we have used in the past. The impressive treatment are not near as painful, hot nor intense as many laser treatments. This treatment has been used in Europe for a few decades and made its way to the US in approximately 2012. We have been Microneedling since 2013 and our experience shows in our clients results.

Microneedling is minimally invasive treatment capable of smoothing textural issues, refining large pores, correcting blemishes, evening out skin tones and reducing redness, and removing pigment discolorations on the skin. We have great success reducing the size of many types of scars. Creating targeted and gentle trauma to the top layer of the skin, Microneedling stimulates the skin to rejuvenate as the healing properties create new collagen.
We offer Microneedling as a customized treatment utilizing Hyaluronic Acids for deep hydration, Vitamin A Retinal for corrections of fine lines and wrinkles, Salicylic Acid for mild to moderate acne issues and of course the Gold Standard, PRP Platelet Rich Plasma.

Platelet Rich Plasma Microneedling uses your own growth factors from your own plasma to achieve superior results. Platelet Rich Plasma (PRP) is an extract of your own blood that contains three to five times more platelets, growth factors and active proteins for tissue and injury healing. When PRP is placed back into the skin by injection or Microneedling, it initiates a localized stem cell response. Over the weeks and months following treatment, this stem cell response recruits collagen-producing cells called fibroblasts. The fibroblasts replace tissue that has been damaged or lost through the aging process with healthy skin that looks refreshed and rejuvenated. The healing properties of the blood components in PRP can be used as a cosmetic treatment for the following:
Reducing fine lines and wrinkles
Tightening and toning skin
Brightening uneven skin tone
Mild collagen and volume loss
Crow's feet and dark under eye circles
Large pores/rough texture
Acne scarring
Scar reduction
Rosacea
The major bonus of these services is they can be done on ANY SKIN TYPE AND ETHNICITY.
PRP Hair Regrowth Treatment
PRP (or Platelet Rich Plasma) contains antilogous white blood cells which are pulled from your own blood and then injected into the scalp to stimulate hair growth.
We will do a consultation with you to determine the right treatment plan for you. This is not a one-time appointment. It is a series of services to allow this process of stimulation to occur. We will be doing some injections of the PRP superficially under the scalp to stimulate new hair growth and to help with thickening of the follicles. There will also be micro-needling done at certain appointments. The micro-needling helps to drive the PRP a little deeper for further stimulation. After just 1-2 treatments you will begin to see the results. Everyone is different so it is very important to allow us to consult you to see what would be best for you.



Frequently Asked Questions
Is the Procedure Painful?
We strive for comfort. Some people feel that a topical anesthetic cream applied to your scalp before the procedure makes the entire procedure very comfortable. Others may need to have some local lidocaine injections superficially under the scalp. Either way most patients do not feel any discomfort.
What Happens Before Laser Hair Removal Treatment?
This procedure is extremely safe and there is no risk of an allergic reaction because the product used (PRP) is derived from your own blood. The PRP contains concentrated amounts of white blood cells which are actually your body's natural defenders against infections. As a result, infection is extremely rare with our PRP treatment. This is also why most people leave without any trace of having this procedure. The PRP is so stimulating and has such high healing properties that the healing begins immediately.
What Things Do I Need to Think About?
When stimulating thinning or loss of hair you must look at the causes of the problem. Although this is an extremely affective procedure, you may need to do other things along with this procedure to get the best results you can. Often vitamins, sulfate-free shampoos, and/or hormone replacement will help to continue the process and will help in your at-home maintenance.
What Happens Before PRP Treatment?
Before PRP the patient should consider stopping the USE OF ANTI-INFLAMMATORY DRUGS (steroidal and non-steroidal) such as: Aspirin, Motrin (or any other ibuprofen drugs) at least 3 days to 1 week before your treatment. With PRP, we "WANT" inflammation this is one of the mechanisms of how PRP does its work. We will also ask you to DISCONTINUE use of any other blood thinning agents such as: Vitamin E, Vitamin A, Gingko Biloba, Garlic, Flax Oil, Fish Oil, Omega's, Essential Fatty Acids (EFA's and DHA's), Niacin supplements, etc., for at least 3 days to 1 week before and after treatment to minimize bruising and/or bleeding. It is also recommended that you AVOID alcohol, caffeine, spicy foods and cigarettes for 3 days before AND after your treatment. All of these may increase risk of bruising.
How Long is the Recovery Time?
There is typically no "downtime". Some redness or swelling of the treated area may last 24-72 hours after treatment but most leave looking as they did when they arrived. You can resume your normal activity immediately. Shampoo using gentle, sulfate free shampoo. There should be no tanning, in the natural sun or tanning bed for at least 2 weeks.
---
Our Location
Ageless Aesthetics MediSpa
546 Harkle Rd, Suite A
Santa Fe, NM 87505
Phone: (505) 473-7546
Medical spa serving patients in Santa Fe, Agua Fria, Tesuque, Seton Village and the surrounding Santa Fe County, NM communities.