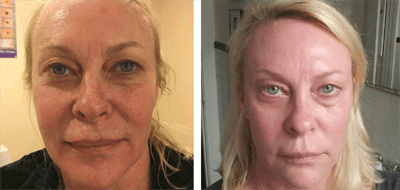 Laser Resurfacing is a laser treatment that is proven to reduce wrinkles, age spots, and acne scars while tightening, polishing and balancing the tone of the surface of the skin. All lasers work on the basis of a "controlled damage" to the skin to stimulate a repair mechanism in the tissue. The Erbium Yag wavelength used during this treatment targets the water in the upper layer of the skin thereby removing the irregular top layer of skin. Therefore, multiple treatments of almost all lasers are suggested to reach the results you desire because you do not want to "over damage" the skin in one treatment.
As we age, our skin which is the largest organ of our body is subjected to many factors that can cause premature aging of the skin. These can include external factors such as environmental, sun, and radiation or internal stressors such as diet, hydration, medical issues, and acne that can cause irregularities in the tone and texture of our complexion. Many laser treatments create heat when being performed which can create hyperpigmentation (darker skin) but not our Laser Resurfacing. This is why at Ageless Aesthetics MediSpa this laser was selected by our practice because it is suitable on all skin types such as a light Irish skin color to a dark African American skin color. A careful analysis of your skin will be performed prior to using any laser. We always recommend pretreatment with professional products to insure the best outcome of your Laser Resurfacing treatment.
The "social down time" is typically approximately one week. Upon the completion of the Laser Resurfacing treatment your skin will feel warm like a medium sunburn for about 3 hours as the skin starts to normalize. Over the next 5-7 days your skin will become tight and dry as the old skin releases and starts to peel, revealing new skin.
During the treatment your skin will be cleansed, topical numbing cream applied, and proper eye protection will be used. The treatment will take only about 30 minutes; however, the preparations and discussion time all take is about one and half hours.
Pre-treatment and post care instructions are available to all patients receiving treatment. We provide all patients receiving a Laser Resurfacing Treatment with an extensive after-care kit which includes all products you will need to care for your skin the week after your treatment.
At Ageless Aesthetics MediSpa, all staff operating the Laser Treatment have been properly trained and certified by the laser manufacturer.
Frequently Asked Questions
How does the Laser Resurfacing Work?
Laser Resurfacing uses an erbium light to vaporize the outer layers of skin causing the skin contraction underneath to stimulate the production of collagen. The Er:YAG laser emissions are on the basis of absorption of radiation in water.
How long does the treatment take to perform?
The actual time of operating the laser can vary depending on the spot size. A full face treatment can take one hour, however, the total time you are here for the treatment can be an hour and a half due to preparation, aftercare instructions and aftercare kits being recommended.
How many treatments will I need?
Good results are apparent from one treatment, however you will see greater improvement with accumulated correction over the course of three treatments.
What does the treatment feel like?
Numbing cream will be applied prior to the treatment. Most patients report the discomfort to be minimal during the procedure and the sensation of a mild to moderate sunburn after.
How long will the results last?
Results can last for years with proper sun protection.
What are the risks?
Laser Resurfacing offers very minimal risks and a fast recovery compared to lasers that product heat during application like Fraxel, Clear & Brilliant, Fractionated Lasers and fully ablative laser treatments.
Before

After

Before

After

---
Our Location
Ageless Aesthetics MediSpa
546 Harkle Rd, Suite A
Santa Fe, NM 87505
Phone: (505) 473-7546
Medical spa serving patients in Santa Fe, Agua Fria, Tesuque, Seton Village and the surrounding Santa Fe County, NM communities.