We offer several chemical peels all designed to brighten the skin. Whether you need specific result like addressing acne, hyperpigmentation, sun spots, dry dull skin, fine lines we provide Micro Peel, BioMedic Peel, Dermaplaning, Microdermabrasion, Blue Radiance Peel, Vitalize Peel, and Deep Chemical Peel.
---
Vitalize Peel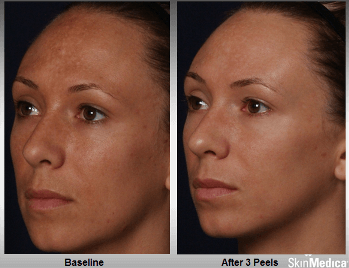 Vitalize Peel is a dermal chemical peel that has been formulated to minimize fine lines and melanin spots that occur as the result of aging and exposure to the elements. Vitalize Peel is recognized as suitable for all skin tone types and complexions by utilizing a specific formulation of peeling agents, which include: alpha-hydroxy acid, beta-hydroxy acid, resorcinol and retinoic acid. The Vitalize Peel treatment utilizes a formula of acidic formulations that encourage exfoliation of the epidermis (top layer of skin) and encourages the molecular restructuring of collagen. The exfoliation and restructuring of the collagen tissue effectively reduces pore size, smoothes ruddy complexions, and improves the texture of skin, resulting in the appearance of a healthier and more resilient complexion.
Frequently Asked Questions
What is Vitalize Peel Used For?
Vitalize Peel is used by individuals seeking to decrease the appearance of fine line wrinkles, restore an even skin tone and diminish scarring which may occur with acne. Vitalize Peel is an effective treatment to utilize in conjunction with other treatment programs such as laser skin resurfacing, which is often used as treatment in more complicated dermal issues such as melasma (brown splotching caused by hormonal changes and other factors) and discoloration of the skin caused by post-inflammatory hyper-pigmentation (post-surgical scarring).
What is the Recovery Time Post-Treatment?
Normal activity may resume immediately following a Vitalize Peel treatment. Patients may expect skin peeling for approximately one to three days post-treatment. The amount of peeling will vary for each patient based on the treatment area and skin type. This is normal and may be concealed with the use of an over-the-counter moisturizer, which will be recommended by the aesthetician.
---
Deep Chemical Peel
Our deep chemical peels, TCA or Jessner, are designed to restore blemished, acne scarred, uneven, or sun-damaged skin. Once the treatment has occurred, new cells and collagen will be stimulated during the healing process in order to produce a tighter, smoother, age-defying look. The depth and type of peel is dependent upon the patient's skin type.
Actual Ageless Aesthetics Medispa Patient
Evolution of Her Jessner Peel Day by Day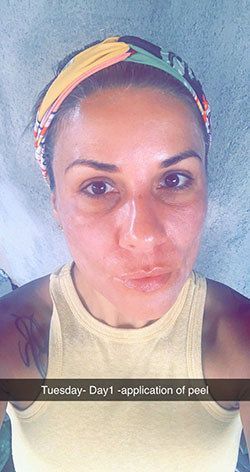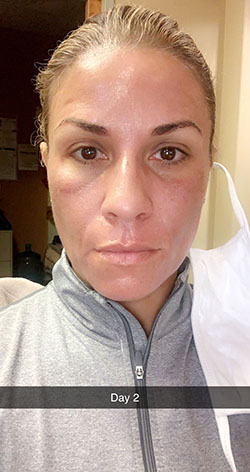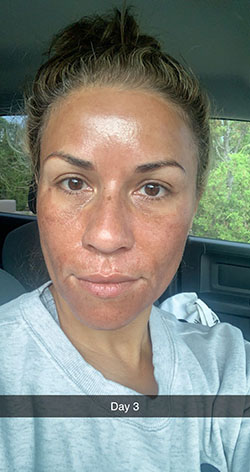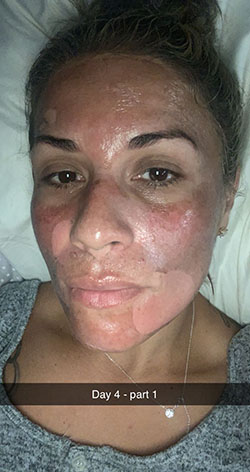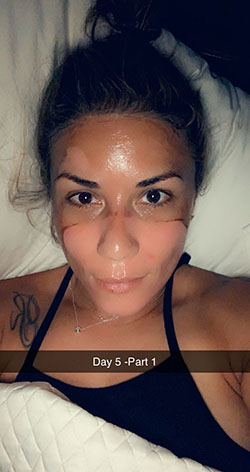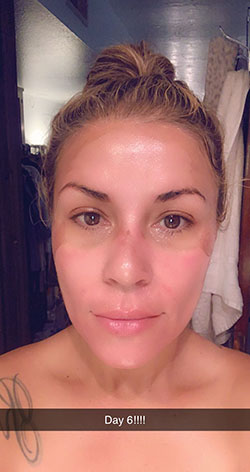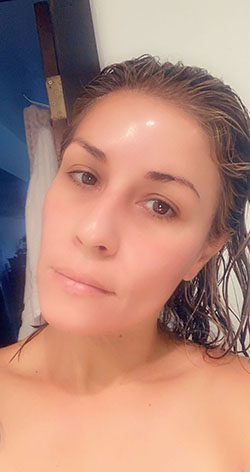 Frequently Asked Questions
What is a Deep Chemical Peel?
The Deep Chemical Peel, like Jessner and TCA, are a medium depth peel designed for more extensive damage. They are made from salicylic acid (a beta hydroxy acid), lactic acid (an alpha hydroxy acid) and resorcinol. These Deep Chemical Peels penetrate beyond the top layers of your skin and can be used on your face and chest.
What Happens Before Deep Chemical Peel?
The patient should not be in the sun or tanning bed. The patient should also be off of any Retinol products for 7 days.
What Happens After Deep Chemical Peel?
The Deep Chemical Peel requires 7-14 days down time. You can expect a complete sloughing or peeling of skin for 7 days. On a return visit within 7-10 days, an oxygen treatment will help restore cell growth with different vitamins and antioxidants. Every peel will cause some degree of flaking or peeling with varying amounts of redness post-procedure. The degree of flaking and redness is dependent upon the acid strength and type. The day after your procedure you could start to feel tightness. During the next 7-14 days flaking and/or peeling could occur. If you do not experience any flaking or peeling that doesn't mean that you will not achieve the optimal results. All peels will create sensitivity to heat and sun for several days post peel and it is critical to the success of the peel that you comply with post procedure care requirements.
---
Our Location
Ageless Aesthetics MediSpa
546 Harkle Rd, Suite A
Santa Fe, NM 87505
Phone: (505) 473-7546
Medical spa serving patients in Santa Fe, Agua Fria, Tesuque, Seton Village and the surrounding Santa Fe County, NM communities.